There always comes a time when we're knee deep in the wedding and events season where we take a mini pause and think, "yeah we may be just a tad bit crazy for doing what we do!", but there is something so special about this industry that it keeps us going year after year and treasuring the relationships we have created within it.
With this thought in mind it occurred to us, what better way to express our gratitude than to throw an event that celebrates all of the crazy ones who make this industry so inspiring and exciting to be a a part of?! From there we collaborated with some of the craziest ones of all to do just that!
The Root Cellar House was the perfect venue for such a scene! The Root Cellar House is a unique coastal venue right in the middle of one of San Diego's most celebrated beach communities, Leucadia. From the moment you walk in the gate you feel like you are at home! Owned and operated by Root Cellar Catering Co., guests enjoyed the tastiest of bites from their signature Farmer's Market Bar, to mini fresh fig salads so beautifully dressed up in darling berry baskets, and the most delicious locally sourced fish and chips!
It was so fun to have everyone together, lounging, sipping PTY cocktail, catching up with each other and meeting new friends! Attendees were even pampered with mini spa treatments by Bergamot Spa throughout the entire evening. Just when you thought you couldn't get anymore spoiled, Good Life Co. was there to take your makeup game to the next level with a Bold Lipstick Bar! Catalina Neal decked out the entire scene with stunning blooms, Peanut Press Creative brought her A-game with the raddest acrylic elements and copper backed signage, and the gals of Folklore Vintage Rentals outdid themselves with all of the comfy lounge sets!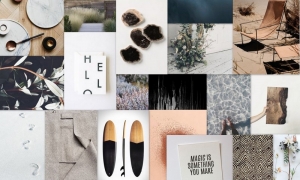 Photography by Jen Wojcik