When I learned that Leah was going to rock a red lip for her wedding day and was a lover of clean stream line design paired with playful and unexpected touches I knew she was going to be a dream client!
Two major inspirational elements that came into play when jumping into event design for her included bringing in her affinity for rich jewel tones and awesome pattern play! With that red lipstick on board, we knew fun color pops would need to continue throughout! By pairing colorful pillows, luscious florals, and an incredible array of candles we had all those beautiful bold touches in all the right places! Now it was time to build in the patterns…
Leah and her hubby Sach had the amazing opportunity to travel to India prior to the wedding to spend time with his family. It was while on this trip that Leah stumbled upon incredible patterned fabrics! With help from their mothers, these gorgeous fabrics were turned into the napkins for each place setting. Having these incorporated into the table top design for their wedding day reminded them of the time they were able to spend with loved ones in India, making for one gorgeous sentimental touch!
Our favorite memory of the day came when Sach surprised Leah with a vinyl copy of Ray LaMontagne's Trouble, as "Hold You in My Arms" would be their first dance as husband and wife. Major romance points right there!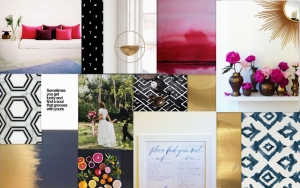 Photography by Hannah Costello